So here we are for another blog train! Blog trains really make me excited! I pass days thinking of what I could offer for the proposed theme, and even if  "hobbies" doesn't sound so difficult, believe me, it was! I don't have any particular hobby. My favorite activity is anything that involves creativity. I could spend hours collecting cute images on magazines or digital images on sites. Since a little girl I collect pens and stickers (I have many and I always have pity to use them). Therefore for this theme I decided to make a set of  objects for a creativity room. I picked many cute things from different creators of sims 2 and I converted them to sims 3. Some meshes I did a small modify, usually on the size as you can see for The Verona Relapse clipped posters. I really liked the result and for sure I'd love to read, knit, write or paint in a room like this. I hope you enjoy these things too!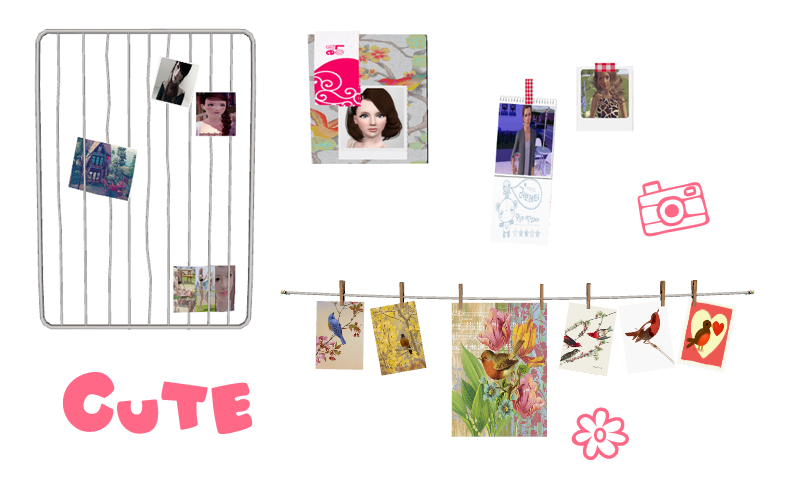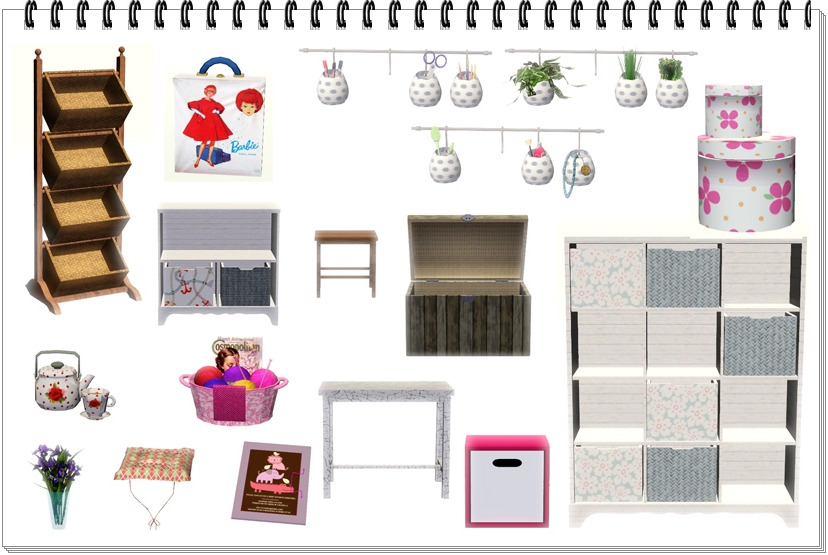 The small Ikea Pots come separetely, you can find them on "wall hangings" area and you move them up and down as you'd like.  The small chair cushion needs a OMSP to be placed on the chair and it recolors super well. As for the trunk and the transparent cube they both have 2 slots  for you to place things inside. I love to add cushions inside the trunk, it's very cute!
I love Enakei pictures and I collected some cute images to add the The Verona Relapse clipped posters. However I thought that smaller posters would be cutter and just re-sized them a little bit.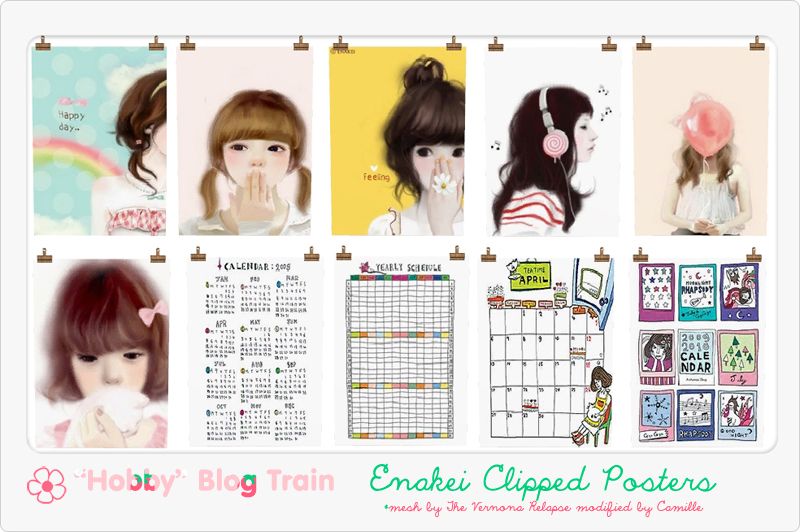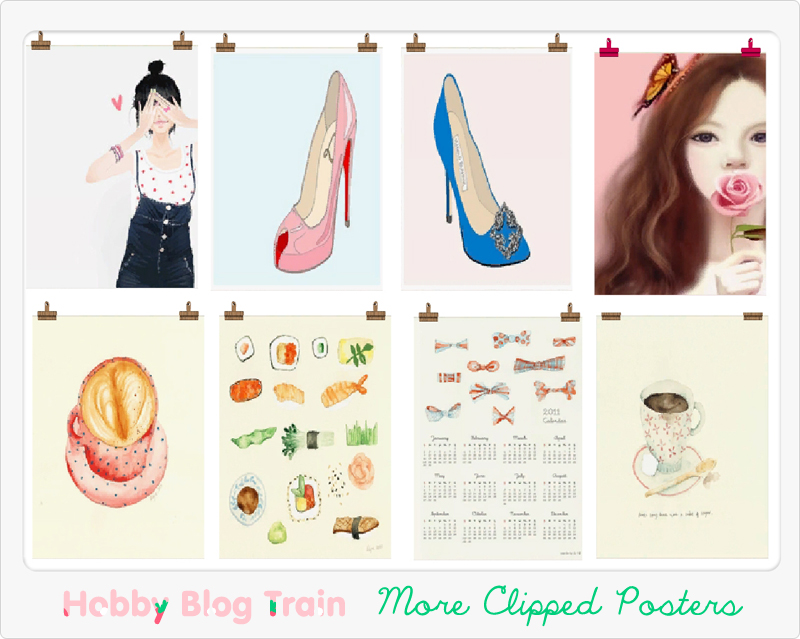 In Game Pictures: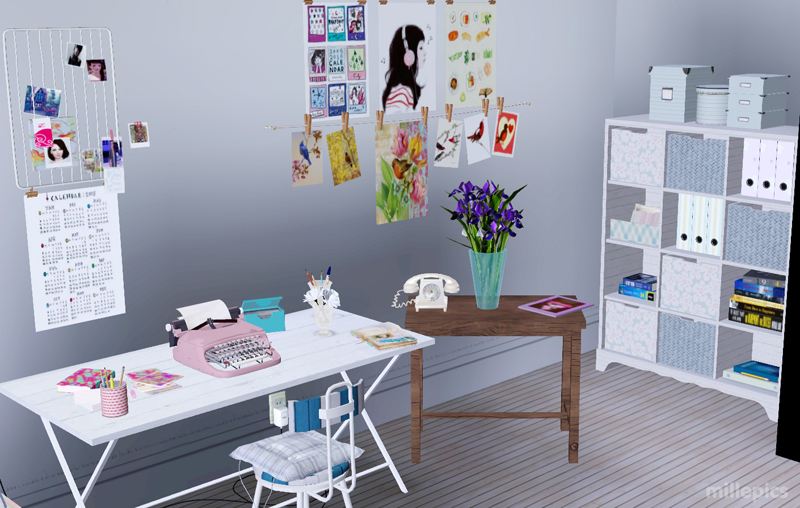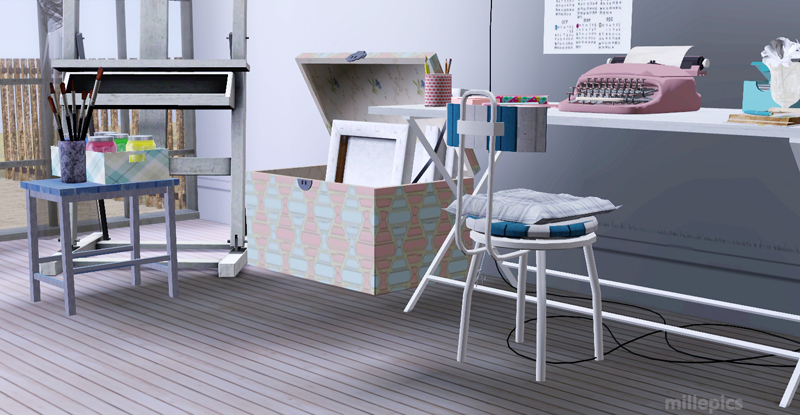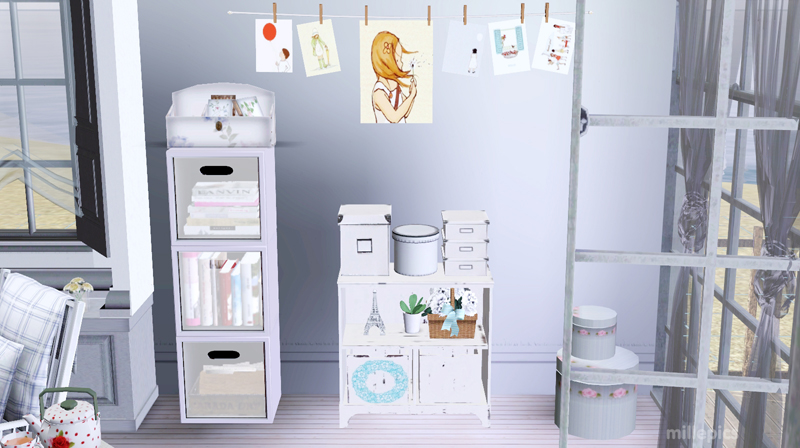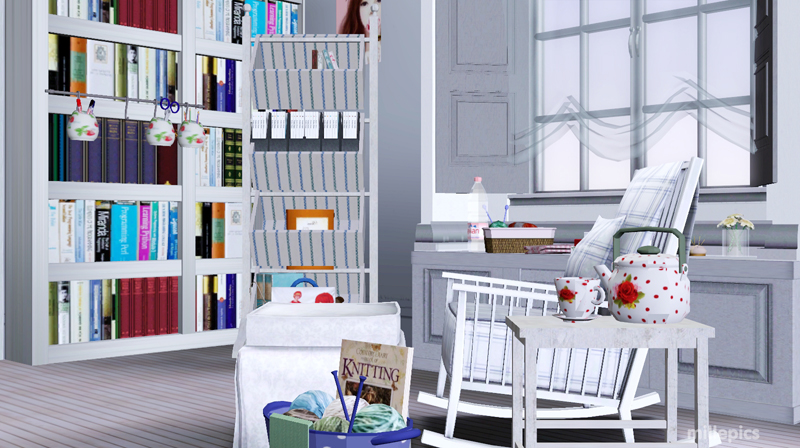 Camille - Hobbies Blog Train PETS (20317 downloads)
Updated for patch 1.26 and pets EP.

Repulsively Desirous Creations
You Are Here—> Camille?s Blog
Next Stop—-> Chicago Styled

Credits:
Various Artists @ Etsy and Art.com;
Alexis @ Easims; BeOSBoxBoy @ All4sims;
Macarossi @ ModTheSims; tinhouse @ BPS; Sugizo @ BPS;
Betsy4Arts@ BPS; Simplan-x; TheWatchingSociety; Mira @ CherryBlossomSims;
The Verona Relapse; Enakei;
41 Comments
Posted on June 18th, 2011 @ 17:44 | marlene said:

thankyou loved this

Posted on June 18th, 2011 @ 17:44 | Camila said:

Eu amei isso tudo de paixão, Camille! Muito obrigada, de verdade

Posted on June 18th, 2011 @ 17:45 | marlene said:

THANKYOU SO MUCH LOVE LOVE LOVE

Posted on June 18th, 2011 @ 18:02 | Amanda said:

My sims are gonna die and go to sim Heaven Camille!

These are sooo cute and adorable I LOVE them! <3

Posted on June 18th, 2011 @ 18:06 | Chicago said:

Wow, Camille! These are awesome and the clips are too cute Thanks so much!

Posted on June 18th, 2011 @ 18:07 | RD said:

OMG I love everything. So completely fantastically cute Thank you so so much for everything.

Posted on June 18th, 2011 @ 18:42 | Oumamea said:

Thank you very much for these wonderful things

Posted on June 18th, 2011 @ 19:39 | Deelightful said:

Camille! I am absolutely speechless! This is all absolutely amazing! Thank you SO much!

Posted on June 19th, 2011 @ 04:02 | Candy Lover said:

This is wonderful Camille! I love the conversions you make, very desirous. Your descriptions are wonderful too! I love to learn about little pieces of information that you tend to give when sharing something with us!

Posted on June 19th, 2011 @ 10:13 | Butterfly said:

These are lovely Camille.Thank you very much.I grabbed them all

Posted on June 19th, 2011 @ 11:00 | scones said:

Oh good golly. I don't know how I will fit this into my sim house, but I will find a way! I love everything, it's so darling. And look! A tea poster and a teapot with cup! I am in love.

Posted on June 19th, 2011 @ 11:26 | Connie said:

Love this, it's great

Posted on June 19th, 2011 @ 14:39 | LemonJelly said:

Camille what a gorgeous collection of items! I especially love those Ikea pots and sense that they will be over-used everywhere

Posted on June 20th, 2011 @ 07:14 | Ninja Unicorn said:

Oh Camille thank you so much for these goodies, i have to use them right away!

Posted on June 20th, 2011 @ 07:18 | Findu said:

eeeeek, i love these stuff, can't await to be at home to download these cute things. Absolutely gorgeous!

Posted on June 20th, 2011 @ 13:59 | Lami said:

Love, love, love it!
Thank you soo… much, Camille!

Posted on June 20th, 2011 @ 17:24 | Camille said:

SWEEEEEEEEEEEEEEEEET thanks !

Posted on June 21st, 2011 @ 07:55 | Pearl said:

this is perfect! thank you for this!

Posted on June 22nd, 2011 @ 15:42 | lpvinyl21 said:

Wow! some of my favorites items are here. Thank you Camille

Posted on June 22nd, 2011 @ 16:56 | Anafenyx said:

Camille, I love all of your creations, it's can be delicated, pretty,and very sweet…

Posted on June 22nd, 2011 @ 21:32 | Sandra said:

Camille, eu amei!!! obrigada!

Posted on June 22nd, 2011 @ 21:59 | Kylee said:

I adore your work & gorgeous blog!

Thank you sooo much for making my game prettier!

Posted on June 23rd, 2011 @ 06:39 | Marisa said:

Cuteness overload! I love these.

Posted on June 23rd, 2011 @ 11:46 | angel said:

thankyou!!!

Posted on June 25th, 2011 @ 14:20 | Maripiou said:

Coucouu,

It's so cuuute! Thank you so much for converting this stuff!

Bisouuus.

Marie.

Posted on June 25th, 2011 @ 16:46 | Eronoel said:

Beautiful, thank you!

Posted on June 27th, 2011 @ 07:03 | baby jini said:

oh.. so cute!! thaky you

Posted on June 28th, 2011 @ 15:43 | DALSENG said:

Posted on June 29th, 2011 @ 16:57 | Georgina Kyung said:

Thanks i really love your design, can you let me know where i can get the typewriter i just love it , and the phone , thanks , dose it work?

Posted on June 30th, 2011 @ 13:37 | Chibi said:

How did you get the icons they are so cute???

Posted on July 3rd, 2011 @ 05:45 | Kristine said:

Is it just me having trouble with installing this? The launcher says I have installed it (my other packages are working as well), but these items won't show up in game? Any help? I really love your design.

Posted on July 3rd, 2011 @ 19:49 | camille said:

Kristine I don't know what to tell you, sorry
Have you tried to install them as .package? They work fine for me, and I really didn't have this problem before. So I am afraid I can't help you much

Posted on July 16th, 2011 @ 02:02 | Shannon said:

Very cute, thanks for sharing

Posted on July 27th, 2011 @ 11:09 | Alets said:

Hello Camille,

Your work is uplifting and brings so much fun into decorating the rooms. Thank you for your talent and sharing it with us humble users. I love all your work.

Posted on July 29th, 2011 @ 22:58 | Killc*a said:

I like this set, especially the transparent cube.
But it's a bit difficult to place the transparent cube in combination with the original cubes by karaswatcingsociety. That's because the slot placement flags are different. If you change the placement flags to 0x00000020, they would be placeable like the original cubes.

Posted on September 29th, 2011 @ 22:04 | Debra said:


I Love this it's soooooooooooooooooooooooooooooo cute!
I wish this was in my room!
I'm kinda sad because it's not.
Love …
Debra … >.< P.s. I can't wait to download this and put it in my kids rooms. I know they'll love it! I have 1 teen daughter 1 kid daughter 2 toddler daughters. Yea it's a hand full! :D I want a boy!

Posted on January 3rd, 2012 @ 03:00 | Flo said:

LOVE LOVE LOVE LOVE LOVE LOVE LOVE LOVE LOVE <3

Posted on January 11th, 2012 @ 21:59 | Kweenie said:

fabulous thank you for the conversion and the share Camille

Posted on February 22nd, 2012 @ 04:36 | Sharon said:

Adorable! You are very talented… thank you so much for sharing your work!

Posted on April 2nd, 2012 @ 10:41 | Francky said:

Thanks a lot Camille for this very nice set. Brilliant for a teen's bedroom or study corner.

Posted on May 18th, 2013 @ 11:55 | Oreo said:

Salut je n'arrive pas a télécharger cette pièce svp dite moi sur quoi il faut le convertir et l'installer merci de repondre
Leave a comment