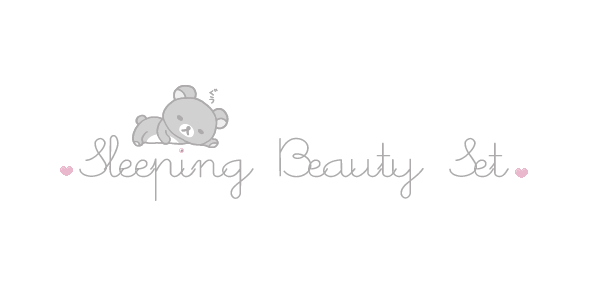 Here we are again!I wish I could stop converting things, for me it's as addictive as playing this game. When I see so many beautiful decorations from The Sims 2 I want to convert everything! There are so many beautiful things for the sims 2 community. That's why I don't have a big interest on learning how to mesh. First we need to bring the goodies, right?
So, if your game is in lack of beds I converted these excelent beds. One from Mira, originally posted on Black Pearl Sims forum and the second one from Anye, for the same forum. You can also see that I converted the bed pillows from each set. They are recolorable and the Teyon bed pillows come with different overlays I found for the sims 2. I also converted a sofa pillow mesh from Sims In Paris that I modified to use them on bed. All the pillows need to be put on bed with "moveobjects on" cheat and they all come with the bed height, so no need for OMSP's.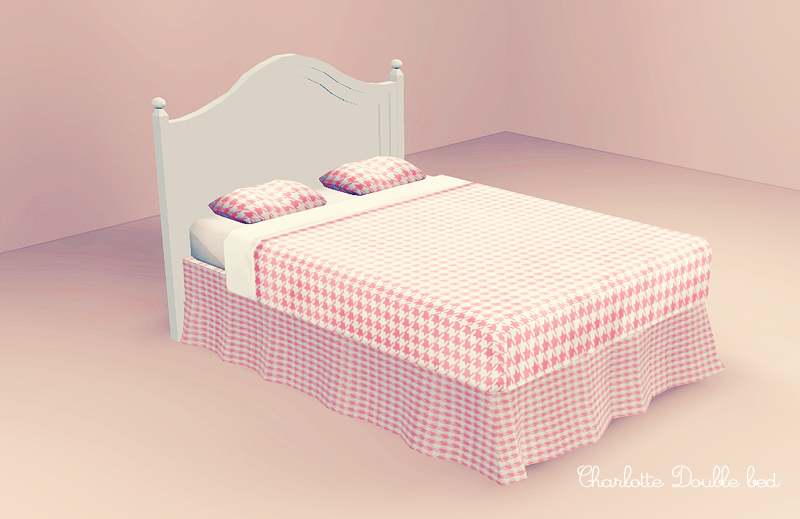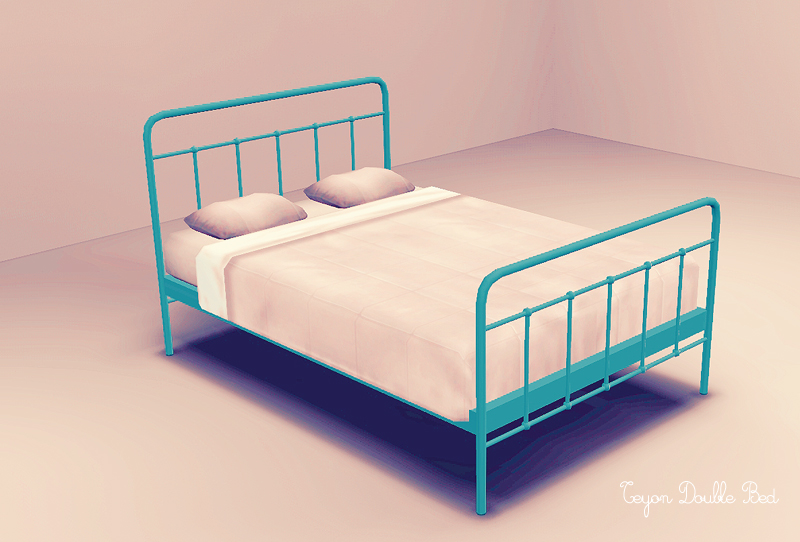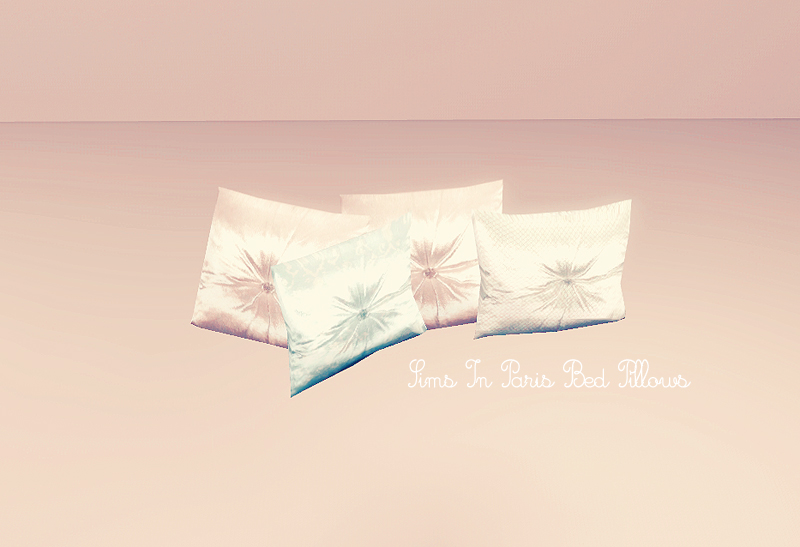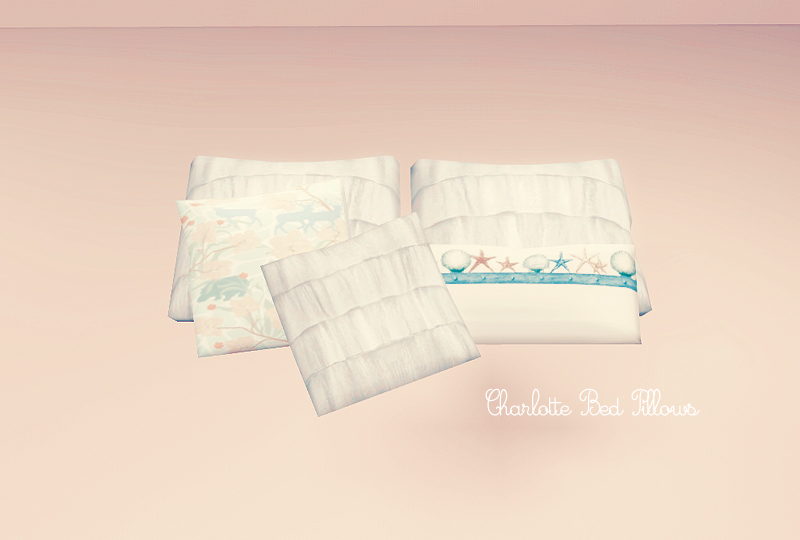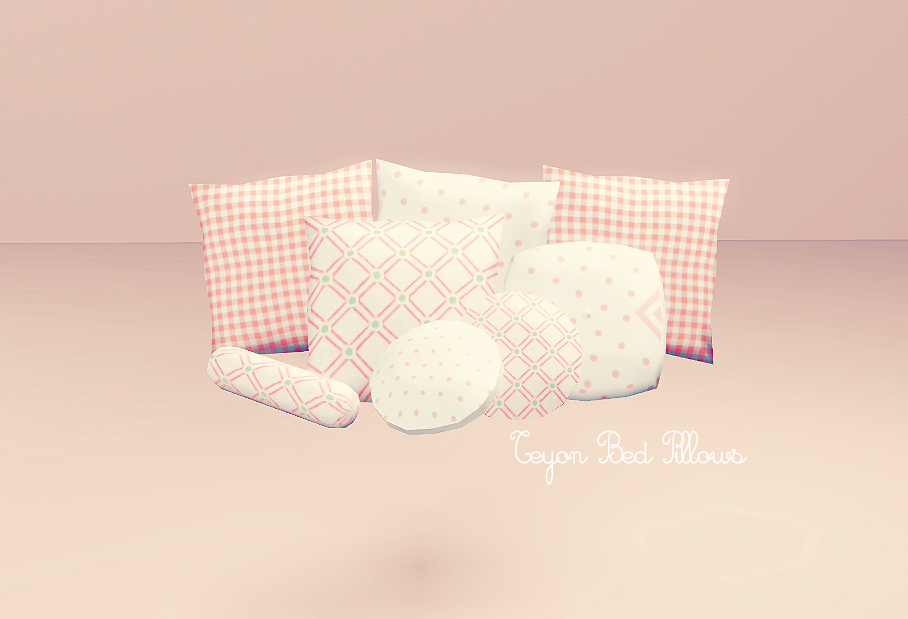 All the beds and pillows were tested on game and they are working fine. Check out the pictures on game:
Camille - Sleeping Beauty PETS (20903 downloads)
Updated for patch (1.26/1.27) and pets ep. Fixed with TSR tool.
The beds were re-cloned.

Credits:
24 Comments
Posted on April 17th, 2011 @ 21:53 | aleex said:

BEAUTIFUL!!! I Love it!!!!

Thankss!

Posted on April 17th, 2011 @ 23:17 | jenny said:

Beautiful

Posted on April 18th, 2011 @ 00:13 | Candy Lover said:

This is lovely! ♥ I love your conversions. They are so gorgeous.

Posted on April 18th, 2011 @ 00:55 | Sandra said:

I love it! Thank you!

Posted on April 18th, 2011 @ 04:59 | B said:

That's how I feel about these beds. I especially love the bed pillows. Generations better come soon, I need filters to find all this gorgeous stuff.

Posted on April 18th, 2011 @ 06:17 | Stacie M said:

This is seriously amazing, I always use your content and your conversions are perrrfect. thank you!

Posted on April 18th, 2011 @ 08:07 | fashionista said:

I have always loved the Teyon bed, and it is great to see it in TS3!

Posted on April 18th, 2011 @ 10:05 | LemonJelly said:

Gorgeous as always. Thanks so much for sharing these Camille

Posted on April 18th, 2011 @ 15:09 | Chantelle said:

i am crazy with shabby chic right now. thank you!!!!!

Posted on April 18th, 2011 @ 16:07 | camille said:

I Love shabby chic too!

Posted on April 18th, 2011 @ 17:53 | Alexandra said:

Oh please keep posting convertions, I love it

Posted on April 18th, 2011 @ 18:19 | Tegi said:

Cute preview))) And cute stuff, as always)

Posted on April 19th, 2011 @ 08:08 | BEBE said:

wow. you're so good at these stuffs sis! amazing! i wanna try your beds pa sana kaso kaka delete ko lng ng the sims ko kase ang laki2x ng file.

Posted on April 19th, 2011 @ 21:17 | lpvinyl21 said:

Camille this is utterly fantastic! I always look forward to your sets. Thank you

Posted on April 19th, 2011 @ 22:55 | amused said:

Great work!
How many polycounts?

Posted on April 20th, 2011 @ 23:52 | Velvet said:

I love them – you are a busy lady Camille! Thanks hon!

Posted on April 23rd, 2011 @ 20:39 | WANDI. said:

Muchisimas gracias! me encanta tu blog

Posted on June 30th, 2011 @ 02:13 | BuDi said:


Thank you, I'll make good use of it.

Posted on December 19th, 2011 @ 14:06 | kweenie said:

fantastic bedroom I love this bed Mira's stuffies missed me , thanks a lot for the conversion Camille. Hugs and kisses

Posted on December 28th, 2011 @ 20:07 | Ruma said:

My god! I found a picture of that bed (blue one) a couple of months ago and I absolutely fell in love with it. Sadly, it was for TS2 and there was no link or description, so I didn't think I would ever be able to find a converted version for TS3, but now I found it! What are the odds for that?! Thank you SOOOOO MUUUUUUCH!

Posted on January 5th, 2012 @ 03:19 | hyerin said:

thank you!! beautiful

Posted on January 5th, 2012 @ 03:24 | hyerin said:

thank you !! very beautiful

Posted on August 13th, 2012 @ 21:23 | CantDownload said:

I can't Download It!!!!!! WAHHHHHHHHHHHHHHHHHHHHHHHHHH

Posted on August 31st, 2012 @ 03:52 | flowr said:

this is a work of art.Excellent work.The best.*love*
Leave a comment