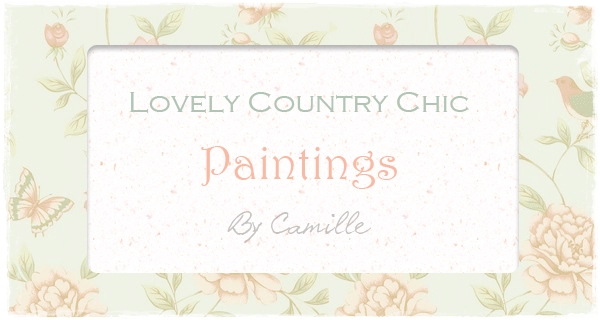 My father is an artist. Since I was born I could feel the ink smells in my house. We always had paintings everywhere on the walls, but for my misfortune I didn't get any artistic gene. When I was about 8 my father made a lovely bird drawing on my new bed headboard. It was extremely romantic, very shabby, a pair of sweet vintage birds. Maybe it's because of that that I love bird paintings and why I'm always fascinated when I see one. So in order to offer you the second part of my Country Chic set, I bring some lovely birds to you.
Some weeks ago our dear RD asked us what kind of mesh paintings we would like to have in the game so she could import some of her amazing art finds to our sims 3 world. I said that I was decorating a house and using some of Jope's paintings and that I wished they had more recolors. After some days she gave us the chance to bring these amazing bird paintings to our game. However, about this same time I was finishing to recolor the same meshes with some birds, butterfly and flower paintings. I decided to wait a bit to release these paintings and here they are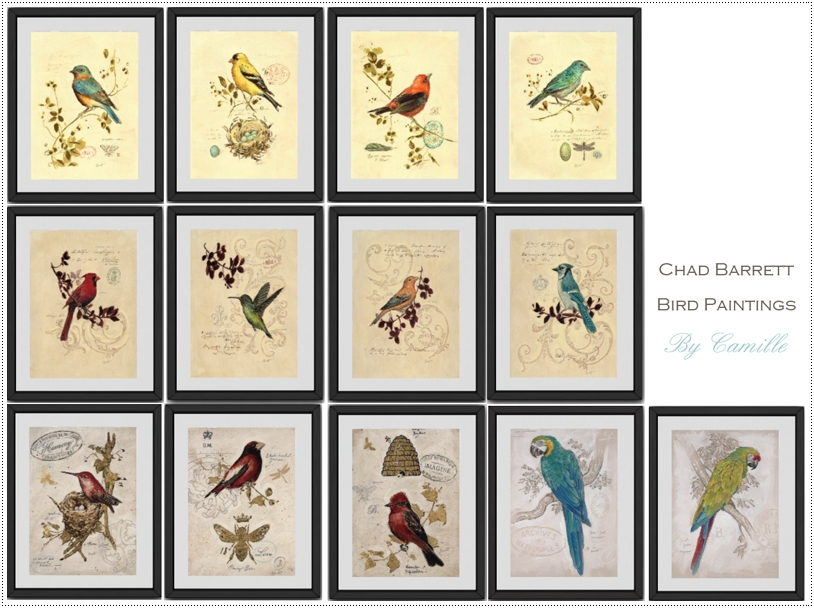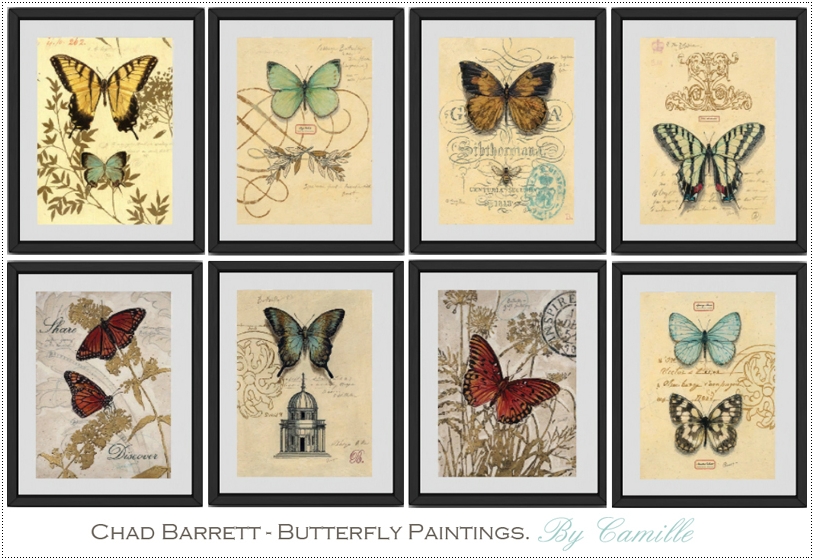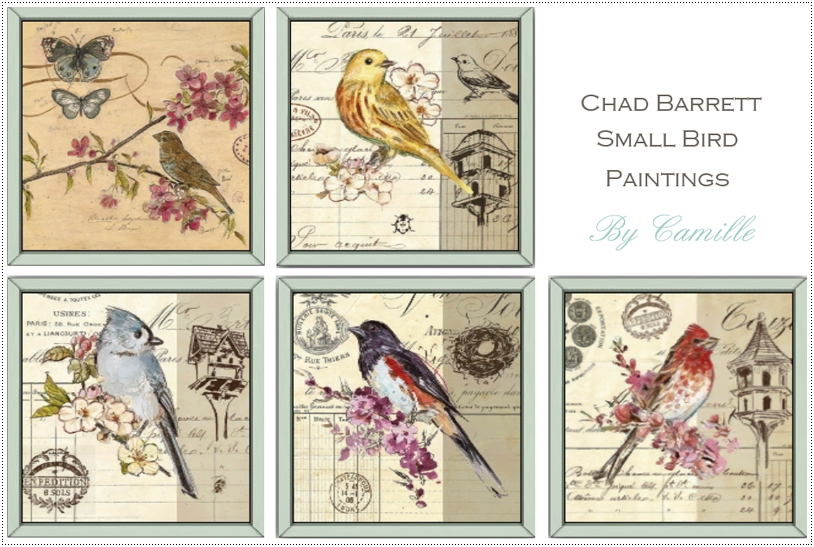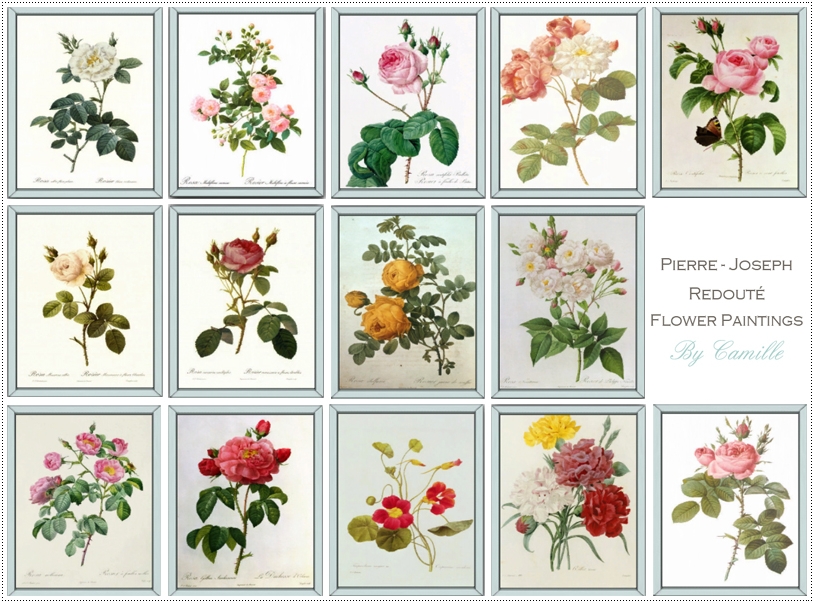 There's a painting that will appear black on the game. It's because I forgot to delete one variation. It's not a problem at all. It's just to show you that it's one of my paintings


If you enjoy bird paintings and still didn't download RD's don't hesitate to grab her wonderful work!
Please download the .package flowers paintings here (just in case the .sims3pack file isn't working)

Credits: Chad Barrett; Joseph-Pierre Redouté; Arts.com
Mesh by Jope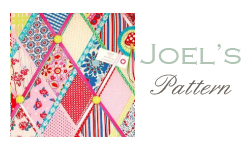 It's a non-rec pattern. Created with EA create a pattern tool. Can't be converted to .package.
I promised Noel @ LivingSims Forum this pattern a long time ago.
I hope she can forgive me for the late answer. Grab it here hon

*Sorry Noel, I have problem with names haha 

23 Comments
Posted on February 25th, 2011 @ 21:00 | RD said:

These are so gorgeous! I love every single painting and am snatching them all up now.

Posted on February 26th, 2011 @ 01:14 | Mercy said:

These are beautiful as is everything else you make Camille.


Posted on February 26th, 2011 @ 07:59 | Grysh said:

Those paintings are wonderful.

I am not an artistic person nor can I understand paintings. I didn' appreciate art before and didn't really care a tadbit about it. But then I met my boyfriend who is an artist and he slowly makes me understand what art is about. And slowly, I came to understand and appreciate them

Posted on February 26th, 2011 @ 09:46 | Karinilla said:

Oh yes, indeed gorgeous!

And I love your site! So cute!

Posted on February 26th, 2011 @ 11:06 | Tegi said:

This is adorable! DL! DL! DL!

Posted on February 26th, 2011 @ 14:07 | IMHO said:

GREAT! Have been looking for such pictures. Thank you)))


Posted on February 26th, 2011 @ 15:46 | Justine said:

The birds and the flowers are both gorgeous, but the butterflies have stolen my breath away. Thanks! …

Posted on February 27th, 2011 @ 16:38 | camille said:

Hello everyone!!
I'm sorry for the late reply. But I do appreciate a lot that you all come here and leave me these kinds feedback!
I hope everybody had an outstanding sunday!


Posted on February 28th, 2011 @ 01:55 | Mel lee said:

Hi Camille.. Those are soooo LOVELY.. I love paintings but my mom doesn't like those that much.. One time, I tried to paint this sunset thing in japan and blah blah i was surprised that my dad had it framed.. lol

now i wanna download it.. Thanks for sharing ths Camille

Posted on February 28th, 2011 @ 09:07 | Dawn Kresher said:

Not a good painter :D

Posted on February 28th, 2011 @ 13:29 | Amoebyte said:

Camille! Thank you for the lovely downloads. It's always so nice visiting your site, makes me feel at home!

Posted on March 7th, 2011 @ 06:41 | Liis said:

Ohh! Another wonderful creation by you! Thank you very much. You are creative

Posted on March 7th, 2011 @ 16:12 | Noel said:

Thanks Camille! I love all of your work They are all so lovely!

Posted on March 9th, 2011 @ 13:32 | CHEEN said:

so adorable sis :D i wish i ahd a talent in painting

Posted on March 9th, 2011 @ 14:03 | BEBE said:

wow.. is that a software or something?? that's pretty cool.. i love arts and painting too.. I so can relate with this.. :D

Posted on March 13th, 2011 @ 18:21 | vhinnie said:

Wow. this one is adorable. thank you so much for sharing this? <3

Posted on March 19th, 2011 @ 22:38 | Lilybox said:

Wonderful! :D I love these. I've noticed a problem with the flower painting sims3pack though. I'm not able to install that one. I'm not sure why.

Posted on March 20th, 2011 @ 14:23 | camille said:

oh Lily, this is odd… Have you tried converting these into .package file?

Posted on March 27th, 2011 @ 23:46 | elaine said:

The flower paintings didn't work. Sims 3 wouldn't install them; when I click on them to open them with the installer, nothing happens. All the other files worked fine.

I haven't been able to convert things into .package files.

Posted on March 28th, 2011 @ 16:41 | camille said:

Oh Elaine, what bad news… I'll check what I can do. Thanks for letting me know

Posted on March 28th, 2011 @ 16:48 | camille said:

I've uploaded the .package file. I hope it solves

Posted on September 17th, 2011 @ 15:37 | Charlotte said:

I love the bird paintings – thank you for making such beautiful things!

Posted on February 11th, 2018 @ 20:44 | 4, Privet Drive – HARRY POTTER SIMS said:

[…] apron, table mats, salt & pepper, stacked plates, vanity, footed dish, old plate| Camille: paintings | chasmchronicle: DIY curtain set | ClioSims3: pillows | cmomoney: clutter | Cyclonesue: bare bulb […]
Leave a comment